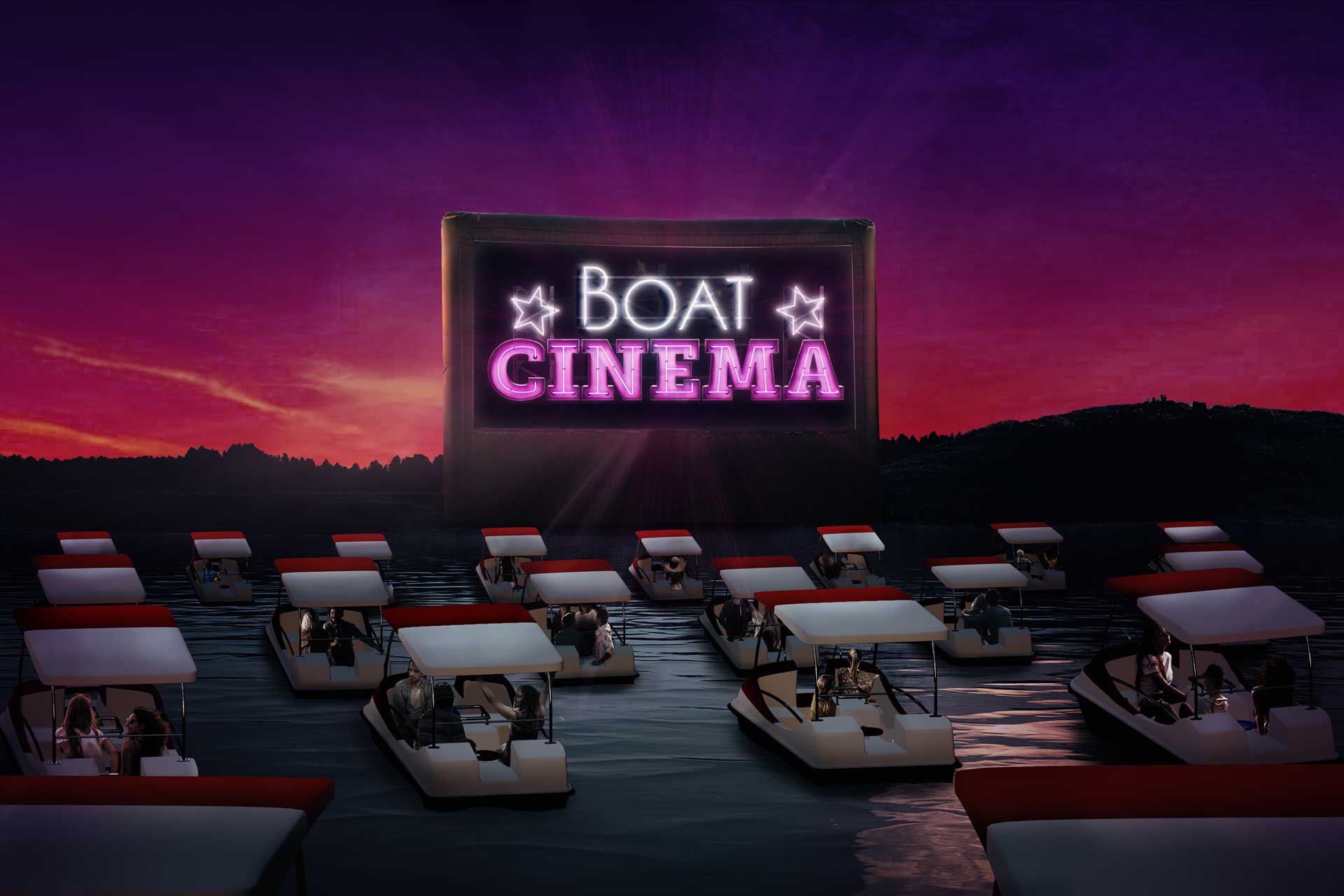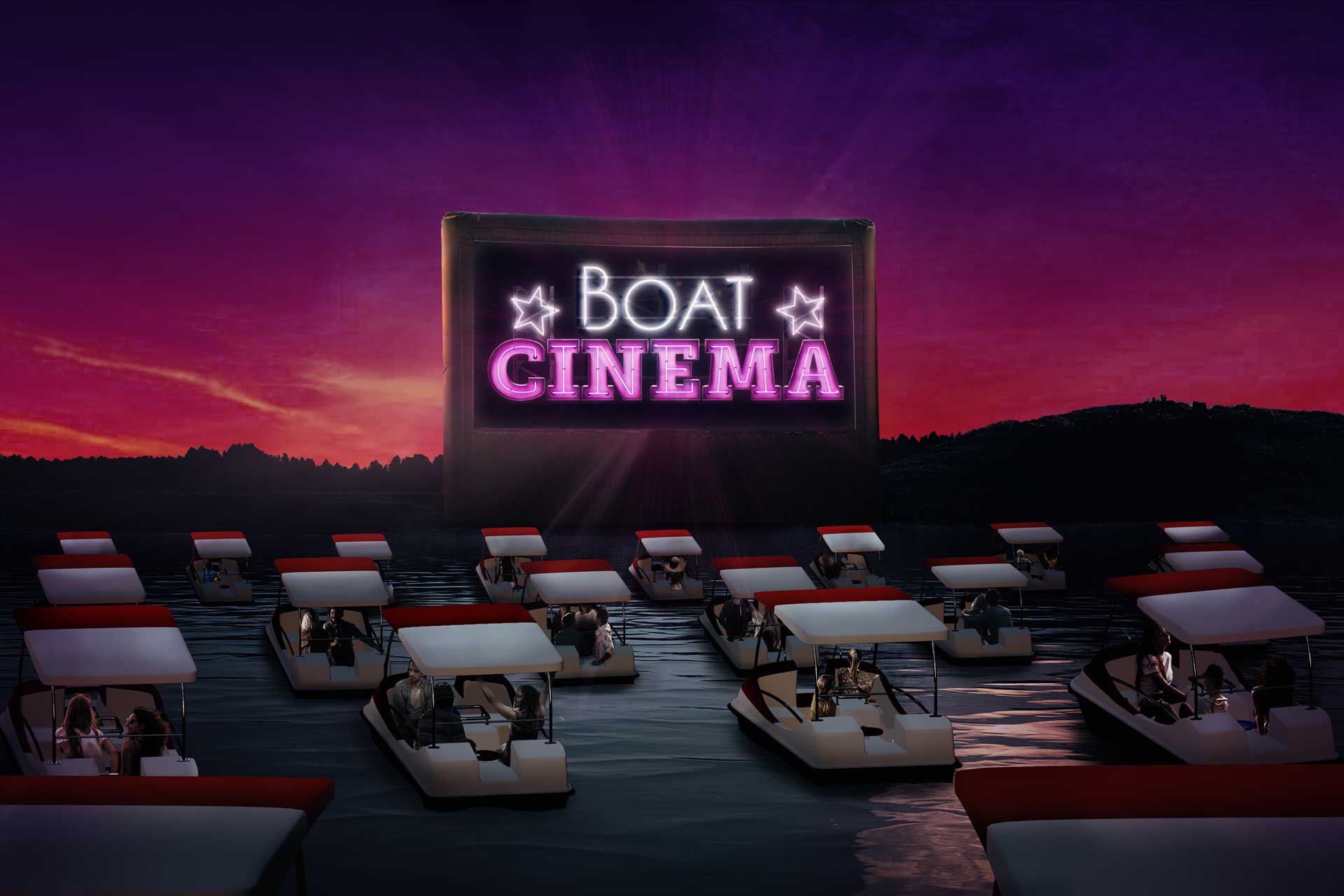 Introducing Boat Cinema LA!
Boat Cinema is LA's first movie experience from your own personal mini boat and ONLY "movies on the beach" experience. Expect a magical night in one of the most stunning settings in Los Angeles with food, drinks, music and even pre-show fun on the Boat Cinema Beach.
Thirty minutes from DTLA, Castaic Lake is a bustling lake environment with boaters, water skiing, long stretches of gorgeous beaches and camping. Boat Cinema will drop you into a world that you will only get here.
Reserve a mini electric boat or grab a ticket to sit on the boat cinema beach for the film. Pack a picnic or we can have one on your boat prepared for you, but come ready for a summer night on the water with incredible films, food, music and even our one-of-a-kind Canoe Concessions offering boat side service and pizza delivery!
Beach Club
Good for all showings. Ticket is for up to 4 guests per showing.
Mini Electric Boat – VIP (Front Row) Tier 1
Price is per boat. Seats up to 5 people. Must be under 850 lbs combined weight. Children under 2 years old are not permitted.
Mini Electric Boat – GA Tier 1
Price is per boat. Seats up to 5 people. Must be under 850 lbs combined weight. Children under 2 years old are not permitted.
Beach Seating Tier 1
Bring Chairs, Blankets and watch films on the beach!
WHAT TIME CAN I CHECK IN?
Check In begins at 6:30pm.  You must be checked in by 7:20pm.  It is very important to check in on time. Late check-ins may lose their boat without refund. A valid ID will be required from one person in your party to hold during your rental
DOES EACH PERSON NEED THEIR OWN TICKET?
NO. You only need to purchase one ticket for either the MINI ELECTRIC BOAT and adhere to the capacity limits
WHAT IF I DON'T HAVE MY OWN BOAT?
You don't need a boat. One of the best parts about boat cinema is renting our mini electric boats and having fun driving them yourself.
DO I NEED BOATING EXPERIENCE FOR THE ELECTRIC MINI BOATS?
NO.
All General admission and VIP tickets will go through a safety orientation with your electric boat prior to boarding
You will drive your own boat via an escort boat that will guide you to your movie watching spot.
HOW WILL I KEEP MY MINI BOAT OR FLOAT FROM FLOATING AWAY?
All boats will hook into a mooring system to keep you enjoying the movie vs worrying about floating away!
IS THERE AN AGE LIMIT?
At least one person in your party must be 18 or older to rent our electric boats.
Can I bring my infant?
HOW MANY MINI BOATS ARE THERE?
Approximately 20 Mini Electric Boats are available for each movie. This means they will sell quickly and you may not get your first choice of movie but it also means the attention to your experience is of the utmost priority and will be superior.
WILL BOATS HAVE LIFE JACKETS?
Life Jackets will be provided for those customers renting our electric boats. Everyone on the boat must have access to their life jacket at all times.
Under state law, it is an infraction, punishable by a fine of up to $250, to operate a vessel of any length unless every child under 13 years of age on board is wearing a Coast Guard-approved life jacket.
HOW MANY PEOPLE CAN I PUT IN MY MINI ELECTRIC BOAT?
Boats fit up to 5 people with a maximum weight capacity of 850lbs
WHAT IF I HAVE TO PEE?
All those renting our electric boats; You will be allowed to drive your boat to shore to use the restrooms. YOU MUST RETURN TO THE EXACT SAME SPACE IN WHICH YOU ORIGINATED.  YOU MAY NOT TAKE SOMEONE ELSES SPOT WHO MAY ALSO BE IN THE RESTROOM. An attendant will help reposition your boat after your return from the restroom. Please do not urinate in the lake, you will be asked to leave without refund.
CAN I THROW MY TRASH IN THE LAKE?
ABSOLUTELY NOT. YOU WILL BE REMOVED FROM THE EVENT AND BANNED FROM THE LAKE. You will be responsible for picking up all your trash and removing it from your boat and disposing in a receptacle. Rental equipment should be returned as you received it. If damaged you will be responsible for the fees
WILL I GET WET?
You may get wet. You are coming to an event on a lake beach so be prepared for water and sand.
ARE TICKETS PER PERSON OR PER BOAT?
All Tickets are per vessel and then you just have to adhere to our capacity limits.
WILL THERE BE FOOD FOR PURCHASE AT BOAT CINEMA? 
YES! Onsite Food & Beverage will be available for purchase.  We recommend you pre-order at least 70 hours in advance to ensure you food order can be fulfilled.
CAN I BRING MY OWN FOOD AND BEVERAGE? 
YES! If you want to bring your own food, YOU MUST PURCHASE the "Bring Your Own Picnic" Corkage fee located in the ADD ON MENU on our website or by clicking on the link on your ticket confirmation. If you arrive with your own food/bev and without a "BYOP" add on ticket, you will be charged $35 in line when you check in.   NO ALCOHOL IS PERMITTED ON YOUR BOAT.
WHAT IF THERE IS INCLEMENT WEATHER?
Boat Cinema is rain or shine.  However, if ever there is dangerous weather we contact you via email with details on how to transfer your tickets to another screening or obtain a refund.  We will also announce on our Instagram handle Boat Cinema LA @boatcinema
CAN I BRING MY PET?
YES. Dogs Under 30 pounds are permitted.  Dogs weight counts toward your boat weight limit and must also have a life vest.
CAN I SMOKE?
Smoking is prohibited in all Los Angeles County Parks and Recreation areas